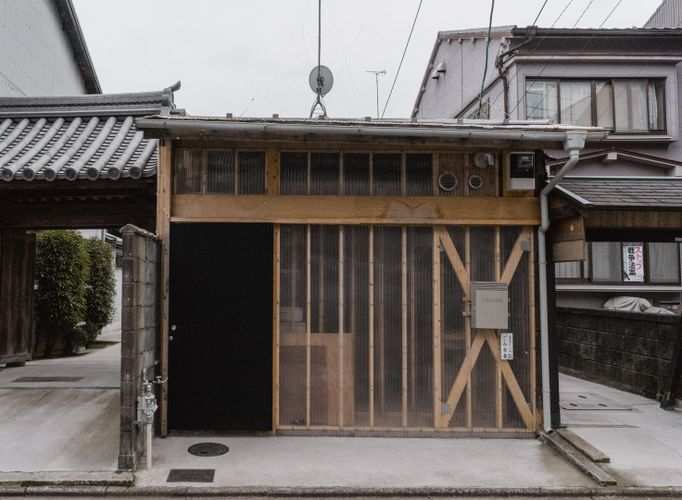 Vostok Kyoto, a shared studio with accommodation for artists, located in the Nishijin area.
Japan's contemporary art scene used to be dominated by Tokyo until recently and there wasn't even enough information about art communities in the other part of the country. Things have changed, and now Japan's best art destinations include smaller cities and the countryside as well. Kyoto's art community recently started burgeoning and is uniquely updating the cultural landscape of the city.
We recently got a chance to visit Vostok Kyoto, one of the shared studios and art residencies that are organized by Basement Kyoto. During the interview with the members of Basement Kyoto, we learned their methodology for breathing new life into abandon buildings to support the artist communities in Kyoto.
---
Providing a white canvas to artists
"In Kyoto, artists are always in need of finding a good place to stay and work. There are actually many artists here, but we don't have enough creative spaces in the heart of the city," says Yoshitaka Yazu, an artist and one of the organizers of Basement Kyoto.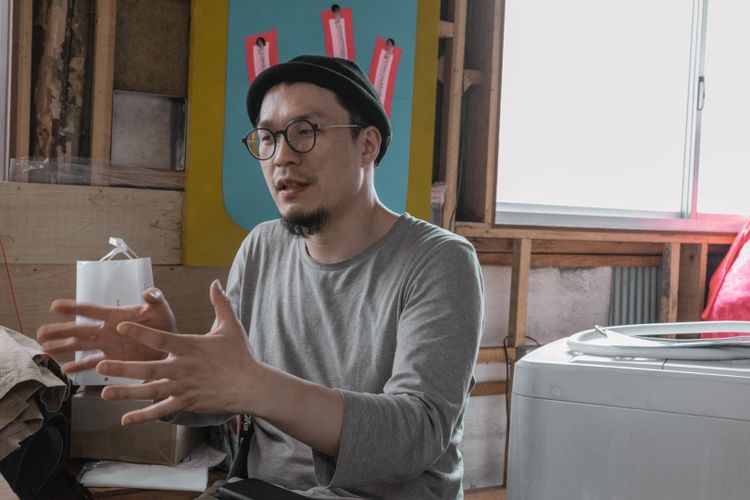 Yoshitaka Yazu, an artist and the owner of the art hostel Kumagusuku
We've already written here about how strict Japanese rent regulations are and how hard it is to freely customize a place you rent. It could easily be suffocating for people with a creative mind, who need to personalize their space based on their specific needs.
Here, Basement Kyoto acts as a mediator between artists and homeowners, by renovating and subleasing unused properties to artists. The space functions as a foundation and base material for artists to work on, just like a white canvas. The spaces they rent are customized freely by artists themselves — again, this is quite rare in Japan.
On top of that, Japan has recently been facing the increasing number of vacant homes, stores and abandoned infrastructure. Urban flight, depopulation has left millions of homes vacant in their cities. According to a report by the Nomura Research Institute nearly a third of all homes in the country – 21.7 million – could be abandoned by 2033. To tackle this issue, a project called Kariage started to rent some old buildings from the owners, renovate them, and pass them on to those who appreciate their values. Basement Kyoto is a project that applis this methodology in the context of art in Kyoto.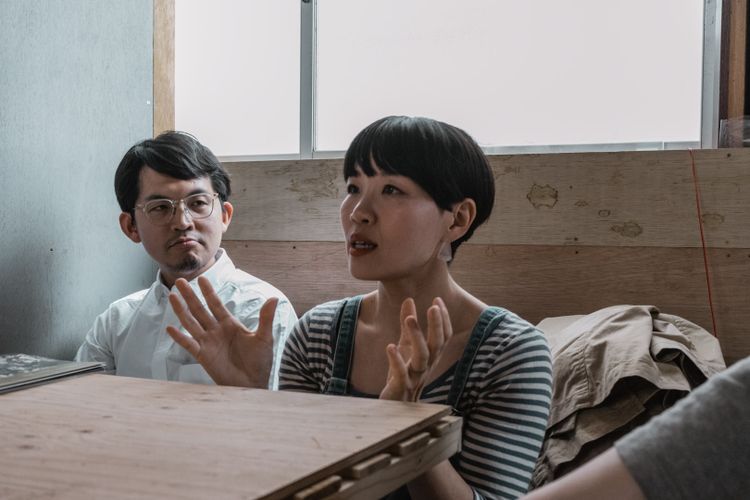 Yuki Kosai from TANK.inc.


Mitsuhiro Sakakibara, a member of RAD (Research For Architectural Domain)
"Just like a white canvas, our spaces complete once artists move in and started making them their own. we have multiple locations in different parts of the city, and all of them have different characters and functionality. Eventually, we want to connect all of them like underground water to create a more meaningful impact on the city." says Yuki Kosai, a member of Basement Kyoto from TANK.inc.
The key is to find house owners with a creative mind and cultural literacy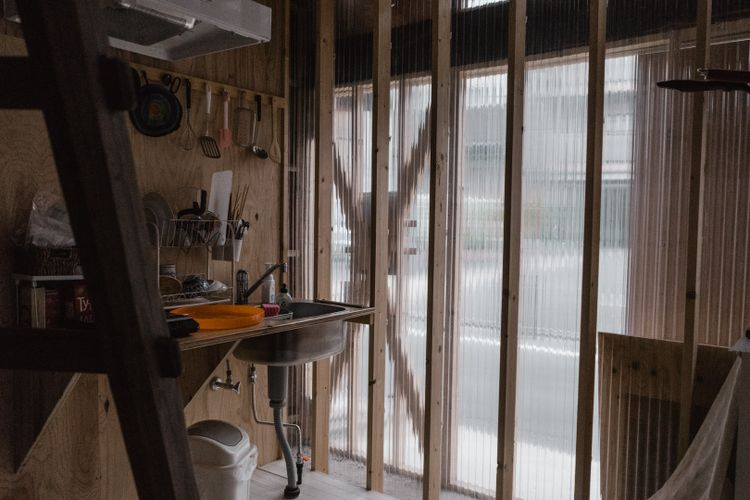 Once the foundation structure is established, artists can create their own space almost from scratch. This kitchen in Vostok Kyoto, for instance, was created by the members together with the artists.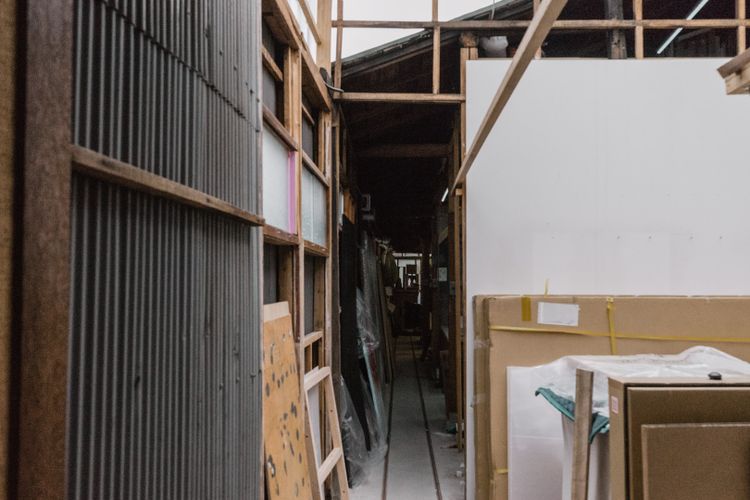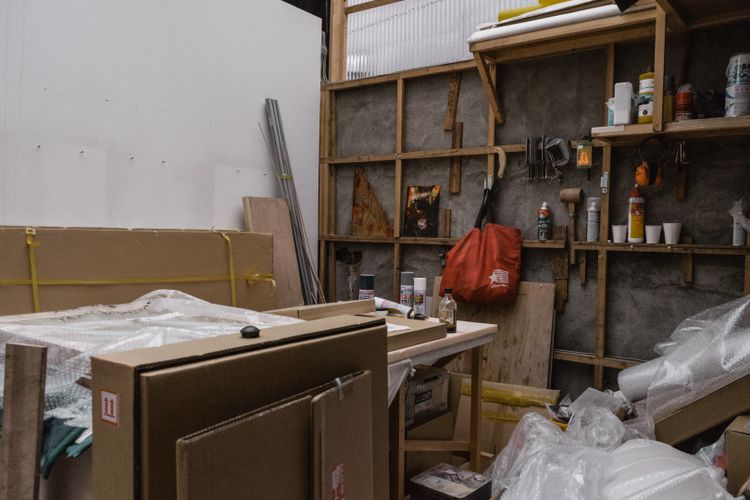 How do they manage to find good real estate properties in the city, though? In Kyoto, where the traditional real estate model still prevails, there are many properties that are not officially on a market. "Interestingly, it's usually building owners who approach us first, not the opposite. They are often interested in arts and want to be surrounded by arts. They are always very supportive to our project — people in Kyoto are culturally well educated and we are always impressed by it." says Mitsuhiro Sakakibara, a member of Basement Kyoto.
"We always go around a neighborhood to say hello to neighbors before starting construction. Kyoto is historically a place where artists, sculptors, carpenters, and artisans in various fields were employed by the shrines and temples. That might be the reason why they have no aversion to art studios and workshop spaces."
Kyoto has seen the development of great artists over its history of more than 1,200 years. They will keep expanding their network and build more locations in the different parts of Kyoto, contributing both the future development of the artist community and urban metabolism of Kyoto.