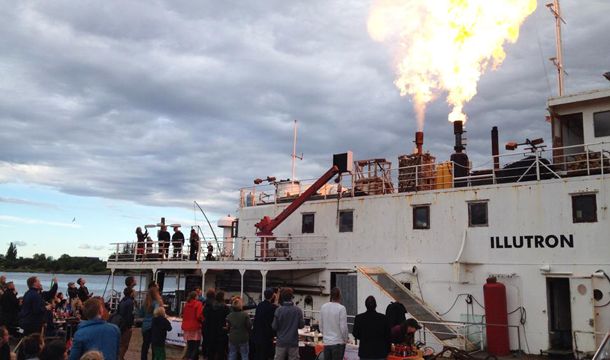 Reference: ILLUTRON facebook
I manage to have an interview with Vanessa Carpenter and Nikolaj Dzl Mobius — the co-founders of ILLUTRON, which is a maker space that is anchored at the port in Copenhagen, Denmark. It is a renovated 400-ton old ship and now used as a project space for artists, entrepreneurs, and creators. I decided to ask Vanessa and Nikolaj how they pushed their idea of creating a maker space here in Copenhagen.
---
Would you tell me about your background? I heard Vanessa went to Malmo University in Sweden majoring in interactive design. How did you go from there to ILLUTRON?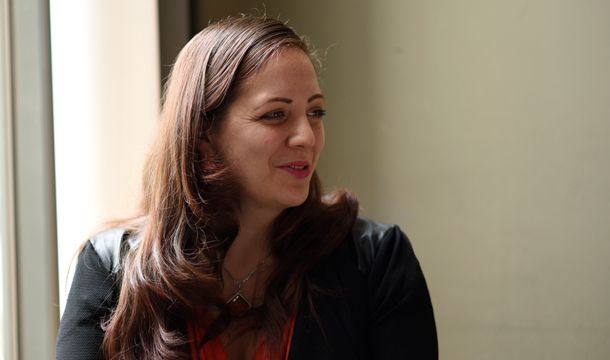 Vanessa: I am originally from Canada, at Vancouver University where I majored in interactive art and technology. I was introduced by a classmate who was at Malmo University to do my masters in Sweden and ended up staying there for two years.
The encounter with ILLUTRON is shortly after moving to Sweden. During the firs week of my masters, one of my Danish classmates said to me, "There is an interesting boat in Copenhagen, come and have a look."
I still remember that day very well. It was very foggy evening. After a party we decided to go have a look at boat on the harbor and I was amazed by the size of the boat.
When I got told a boat I imagined something small, but when I saw I didn't expect the boat to be so big. It was surrounded by electronic devices, robots and other junk, I feel in love with that mysterious feel straight away.
It's like one scene out of a movie! What sort of boat was it?
Vanessa: ILLUTRON was once called* a half-machine* and was used to dig cables and wiring when building bridges around Denmark. After fulfilling his role, a friend of us bought the boat that had been neglected for a long time at the port in the Christiania district of Copenhagen. The encounter with the boat that night was the start up and operation of ILLUTRON.
Dzl, you are also one of the core members of ILLUTRON, and also FabLab in Roskilde city. Could you tell me about your background?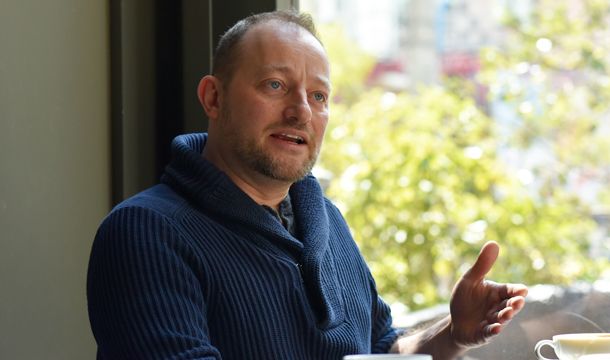 Dzl: I am from Copenhagen and I have always been involved with technology and art. I have created art work myself, taught various skills in the technology.
FabLab, which I am part of, is located on the campus of Roskilde University and puts emphasis on education. Since it is an open space, it isn't just for students but also for the general public. We teach them how to use various machines such as 3D printers and laser cutters and also run tutorials according to their needs regarding technology in general.
In many Fab Spaces, they are told "You can use 3D printers and laser cutters freely, good luck!," and they are left to figure it out on their own. But, in FabLab, the staff looks at the materials together and gives advice for their projects so that amateurs can use and understand it easily.
Vanessa: In Copenhagen, there is currently a big movement in terms of technology and art, therefore we put a huge emphasis the educating part.
ILLUTRON was born from the desire to create "our own place."
Why did you decide to reconstruct it into a maker space, not anything else?
Dzl: In Denmark, there were several small maker space, mainly in the Christiania district and Vestabro district, and it was the experiment site of various projects. These spaces were scattered in low-priced areas such as closed down industrial areas.
However, in recent years, it was swallowed by the swell of re-development. With the population of Copenhagen increasing dramatically, building offices and apartments were built in in areas that didn't have many developments.
The artists and creators who gathered ins mall maker space areas had been driven away. It is those who had created new places and have made the area interesting, but they were kicked out as soon as the area became required for re-development. Due to this, artists and creators felt that they needed a their, 'own place,' which could never be driven out.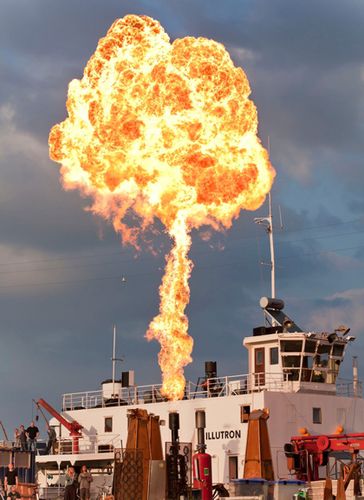 One of the performances at ILLUTRON.See: ILLUTRON facebook
It is related to the issue of gentrification in Copenhagen.
Dzl: Yes indeed. That is why it was important that "ILLUTRON can never be kicked out no matter what happens". For example, the Vestablo district, which was originally a very low rent area, has become a popular spot in recent years for tourists and investors which means artists living there originally have been forced out.
Vanessa:ILLUTRON floats in the water and can move anywhere so nothing can be kicked out!
Dzl:That's why the representatives of the maker space cooperated and gathered funds and bought a ship together. Because it is a used ship, we repaired it together. There are still a few places that have not been repaired yet …. But this boat is ours so no one can take over!
Involving locals while moving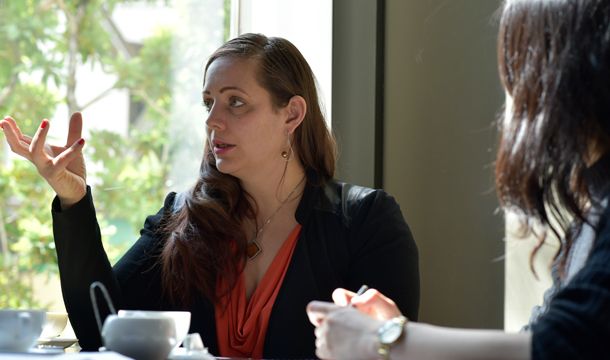 Vanessa: After the repairs of the ship and the official opening of ILLUTRON we have set up various projects such as large scale crafts which many could participate in and a number of small projects.
Is there anything you are particular about while doing these projects?
Vanessa: ILLUTRON is constantly moving from port to port of Copenhagen and we are trying to connect with the community in that area when we do the project. I think a good example is when it was anchored in Sydhavnen.
This area used to be an industrial area, but recently the influx of wealthy families means many new apartments are being built. It was interesting that the residents here were initially distant from us. I think the thought it was a gathering of weird people. Various experiments and work were done in ILLUTRON, and sometimes blow a fire from a ship as part of the performance (laughs), I guess that would make people wary!
We started to think it was hopeless and then we decided to do engineering workshops for kids in the area. By involving kids we were able to get more people involved and families in the area to join the workshops, art events and performances.
It was very pleasant to see the "odd-ballers" who ride around second-hand ships and the wealthy families in this area working on the same project. Currently, instead of Sydhavnen we are anchored at the other ports of Copenhagen, but the way we involve locals has not changed.
What does it mean to involve the locals of the area?
Dzl: ILLUTRON is a public space. No matter where it is anchored anyone can come in freely and do whatever they want to do.
Vanessa: We do various activities such as large-scale cultural events named "KulturHavn" (cultural port) and anyone can participate easily. We don't just do performances, we also hang screens up to show movies and experiments showing robots.
Dzl: In particular, "access to waterside" is one of the most important topics. The port of Copenhagen is operated by private companies there are actually very few places where people can enjoy the waterside. That is why ILLUTRON often does projects with waterfront as a theme.
Vanessa: There are definitely many projects that use boats or something floating on water. Having a small orchestra on a small boat and go along the port, and in Christmas we do a floating tree.
How do you get the staffs and expenses?
Vanessa: We have 20 main members, but we constantly have new members who bring new ideas to the table. Now the original members are completely hands off and it has be handed down to the younger generations. It has become an autonomous ecosystem.
Usually it is necessary to pay to have your boat on the port but as long as we are doing cultural events we have been told by the Copenhangen city council that we can have out boat on the port for free. We also manage by getting funding for each project and the membership free from the members.
Dzl: ILLUTRON is a physical space as well as an area for networking It is used by various organizations and individuals who have a range of ideas and skills and it has also become a very active community on SNS.
If you think of something, give it ago- 'Do-ocracy'
I'd love to hear your key tips for running a community!
Vanessa: For myself I am more of a provider of facility than a creator. For example, 'Idemo Lab,' is something we are currently setting up, and by organizing up workshops and events in this space, we create communities and you're able to support the growth of a range of different people — this is the mission.
Dzl: That's right. At events we are setting, it is important that it is not just interactivity but it is also participatory. There is no point to expect that people will just have fun automatically. What we cherish is the participation of the people from the ideas they have brought in and from there news ideas being born.
Vanessa: The mindset of lets give it shot! Is really important. For example, if you think you want to paint the boat pink, rather than discussing whether I should paint it pink you should just paint it pink! I feel there are a lot of people who just say their opinion but don't really take that into action. So as long as there isn't anyone strongly against what you want to do, you should take action and whoever paints the boat pink becomes a winner. Actually doing it is the determining factor.
Dzl: That is 'Do-ocracy'!
Vanessa: Do-ocracy is a Copenhagen mentality — people tend to just do thing without really asking. In this city, new attempts and interesting events are always being done. This is done because people don't waste time discussing. Because people are like in Copenhagen this there're lots of interesting pop up events and initiatives all the time.
So people in Copenhagen not only say their opinions but they also take action. In Japan, there are people complaining about the way people treat the parks but there are very few people that actually take action and do something about it. This is where we should really look up to in terms of people in Copenhagen.
"Meaningful" experience is important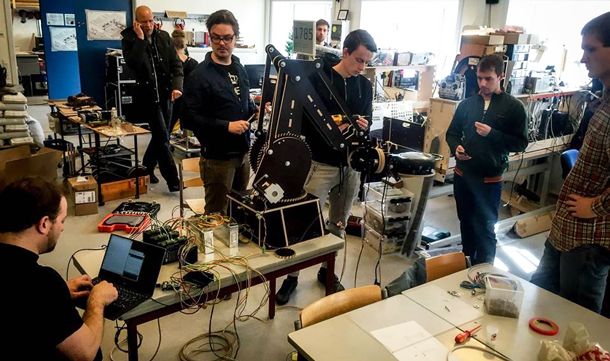 One day at Fablab. Reference: FabLab Official HP
Vanessa: We are also conscious about being, 'meaningful.' Since ILLUTRON is a maker space, it deals with technology a lot of the time, but in recent years it tends to be"technology for technology" — this means a type of technology being made where personal experiences are being ignored. This is something we are very conscious about.
I am studying the concept of "Meaningful Smart Product" with IdemoLab of DELTA. For example, you're wearing a very nice watch today, you must have a lot of feelings towards and memories with that watch. Image that you have 5 more similar smart watches which may be useful. What if you don't have the same feelings towards those watches? No matter how far technology goes, if something isn't meaningful between the person and the object, could you say that it is something really good for us?
This is a very interesting issue. You can say something similar with the experiences in the city.
Dzl: Personal attachment is important. There are many forward thinking cities that function without any problems, but cities become something special only when there are individual experiences, thoughts and memories that are attached to the city.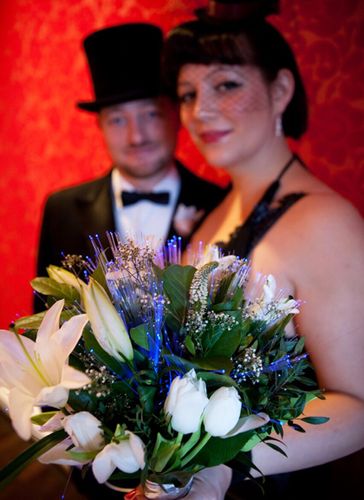 An example of "Meaningful" experiene. In their wedding, Mr. Vanessa wore a bouquet with LED lights and a ring with a galvanic skin reaction device. It is a mechanism that allows Vanessa 's mood to be sensed by using the current using the current, blue when she feels calm, and when she is unsure the white in the bouquet changes. In this way, we value how to use technology that closely relates to our own experience and feelings. Reference: http://www.geekphysical.com/coldfeet_readmore.php
From this interview, I really think the people in Copenhagen must have a "meaningful" relationship with their city. I wonder if it is possible to do something similar with all the cities around the world.
Dzl: It is the people who make the city. If the people in the city want to do it, I think it can happen.
Vanessa: No matter how many workshops or events you do, like I mentioned earlier, nothing will happen if you just stand there waiting. This is something we have also experienced, where people come and say, 'just tell us simply what you're doing,' or 'tell me how to become creative.' But if there are just people sitting there waiting for something to happen, life won't be brought to the city.
No matter how much creative opportunities and space you provide, nothing will happen unless there is awareness or responsibility from the people involved. In other words, having a spirit of your own and having the spirit of Do-ocracy is important. I think this can be said not only just for Copenhagen but for cities in Japan like Tokyo.
Great point. Please tell me what are your ambition for the future?
Dzl: I would like to continue to focus on teaching about technology and manufacturing. I am really inspired by the educational system for creators and artists at MIT's Fab Academy.
Vanessa: I want to get away from replying to emails and meetings and try 'skunk work'. I would like to really focus on a project for about 3 months and from that I think I would be able to see what's truly important and a vision for the future. I will also continue the research on the "Meaningful Smart Product"
We are looking forward to what the future hold for you! Thank you so much for today!
(※This article was originally posted on layout.net. Interview / Text are by myself)
ILLUTRON seen from the sky.
See also: Walter Hannemann
Official website: www.illutron.dk
Facebook: https://www.facebook.com/illutron/Flicker: https://www.flickr.com/search/?w=all&q=illutron&m=text