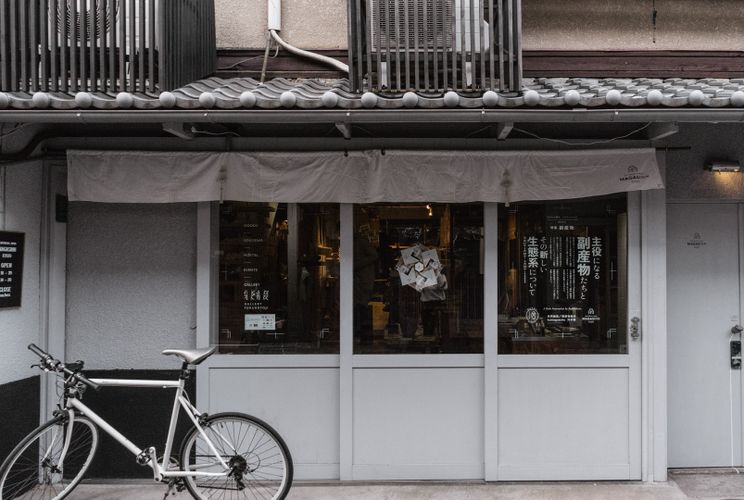 Walking around Kyoto, I've noticed a number of new guesthouses and hostels popping up every so often. The city of Kyoto saw record levels of tourists in 2018, with 15.57 million foreign and Japanese visitors spending at least one night in the former capital of Japan. The number is continuously rising, marking 2,604,300 visits sorely in a month in February 2019. There is no doubt about a reason behind the boost of new guesthouses.
At the same time, I can't help but noticing posters and signs that say "No more guesthouse!", which are clearly written by long-time residents in Kyoto. It is not hard to believe the friction between local everyday life and a wave of tourists who themselves don't always know what's good in an unfamiliar land.
Should the relationship between these travel accommodations and local residents be so bad, though? Moreover, could travel accommodation such as a guesthouse and hotel be more than a mere place to sleep?
I asked Tatsuya Iwasaki from Magasinn Kyoto, a unique hostel in the area just north of Nijo Castle. Magasinn Kyoto is an experimental space that proposes an alternative of a sleeping accommodation as a social and cultural hub, that is closely connected to a local community while inviting a number of creatives from all over the world.
Space to stay, to visit, to buy, and to edit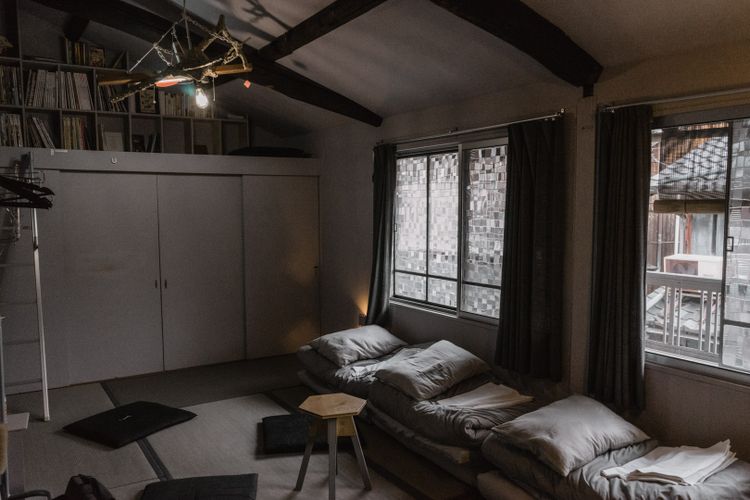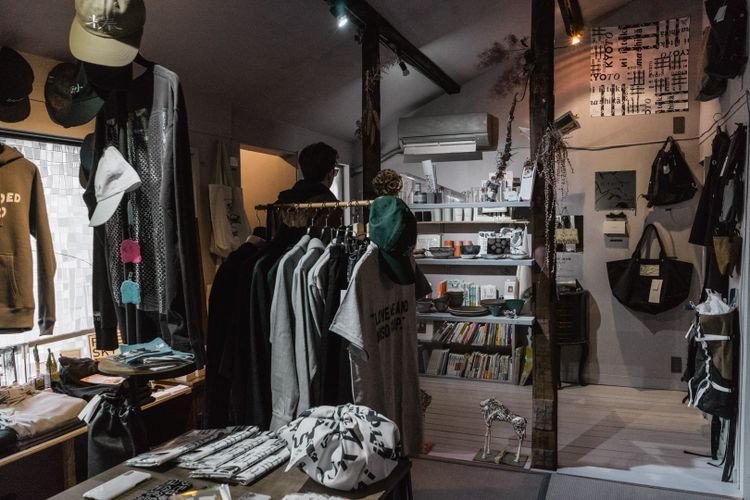 There is a select shop space just next to a guest room.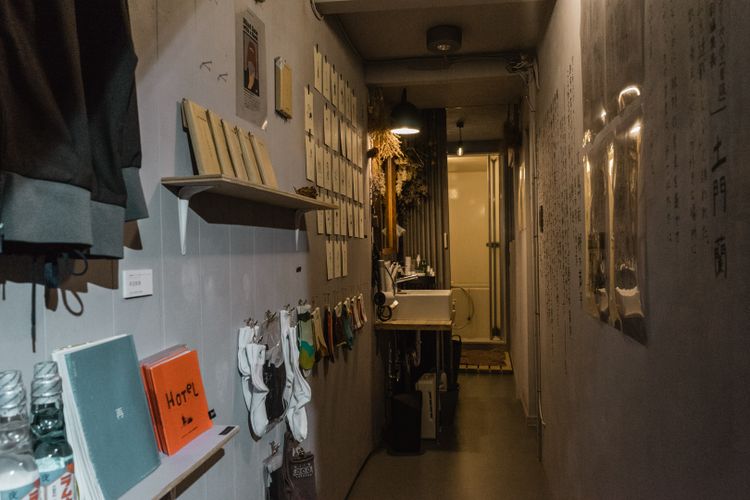 Even in the hallway towards the bathroom, guests can enjoy well-curated exhibitions and artistic items.
Iwasaki used to work as a creative director and owned a select shop, and was looking for an inspiration of space for people to gather. He came up with the idea of creating a travel accommodation, but his imagination didn't stop there.
"I thought it would be fun to highlight a certain theme or topic every month and exhibit it in this space — that leads to our concept of "lodging magazine". says Iwasaki. In 2016, he turned this idea to reality by renovating a 100 years old Japanese house and converting it into a guesthouse that is also an exhibition & event space and a shop.
The entrance resembles a magazine cover — every now and then they pick a specific theme, which corresponds to exhibitions and items in the curated select shop. Anyone can walk in to check out their exhibitions and events freely, and guests can enjoy these while actually staying there in a same space. I mean, haven't you ever dreamed of spending a night in a museum or a gallery? I have.
On top of that, Iwasaki can connect guests with local creatives too.
Connecting global and local
"One might think that people are exclusive and conservative in a historic city like Kyoto. But I am always surprised by the beautiful mix of cultures and genres, old and new in Kyoto. I am trying to make this place a cultural hub, where people from all over the world can gather and exchange dialogues." says Iwasaki.
"I have worked in Tokyo for years before moving into Kyoto. You can often find neighborly ties and small communities in Kyoto, which I find very unique and interesting."
One might think that these neighborly ties could be a barrier for outsiders to come in and share their space. Magasinn Kyoto, though, try to bridge them in a sensitive manner.
"We once had an American couple on honeymoon stayed with us. During their stay, there was a local festival in our neighborhood, so we invited them there. I wasn't sure how the local community would react, but I was pleasantly surprised how open and welcoming they are — this is something I would like to keep aiming." says Iwasaki.
"We were, in a way, outsiders for the local community too. That's why we let ourselves be really present in the community — we joined the neighborhood association, helped them with community bulletin board, and just talk to them on a daily basis. This is a traditional neighborhood where a lot of seniors live, and we noticed that facebook and twitter are not the best way to communicate with them. We thus wrote them a greeting letter in a local newspaper — I was moved when some of them responded and sent us a letter back."
Everyone is an outsider at the beginning. The key is not to stay as an outsider and keep everything another person's affairs. We need to stay there, live there, experience there, and gain their trust. Once we stop situating ourselves outside of a circle and act upon it, there are a lot more potentials in a community.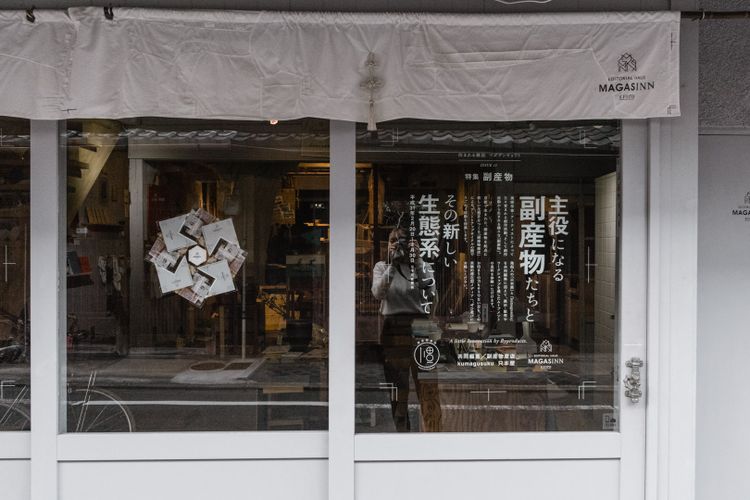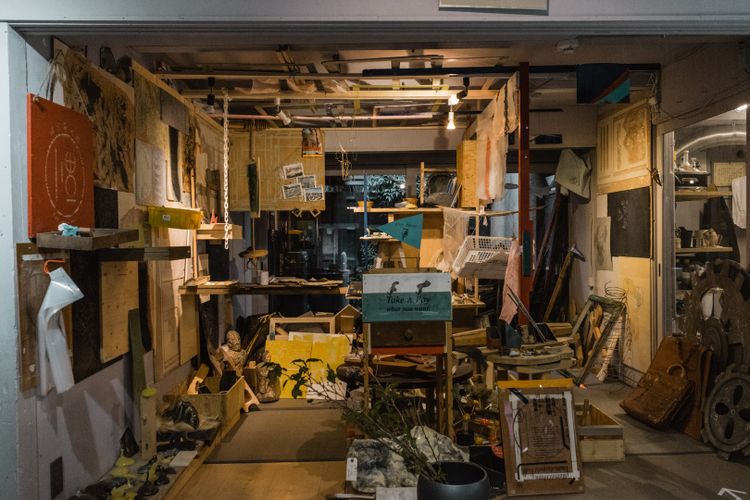 Thier creative exhibition space.
"I still don't know how to describe this space in one word — it could be an art space, Airbnb, or a shop and event space and more.", says Iwasaki with a smile. "I believe it is an actually good thing that it's hard to name it in one word, letting imagination wondering and potentials to grow."
Come to think of it, I still haven't seen many critical studies or experiments on the topic of hotels, hostels and guesthouses and other touristic facilities in our city, and their impact on local cultures and communities. There are undoubtedly more and more creative initiatives in a traditional city like Kyoto though, such as an art hostel Kumagusuku, and I'd love to see more dialogues before jumping into a conclusion of saying "no more guest house."
---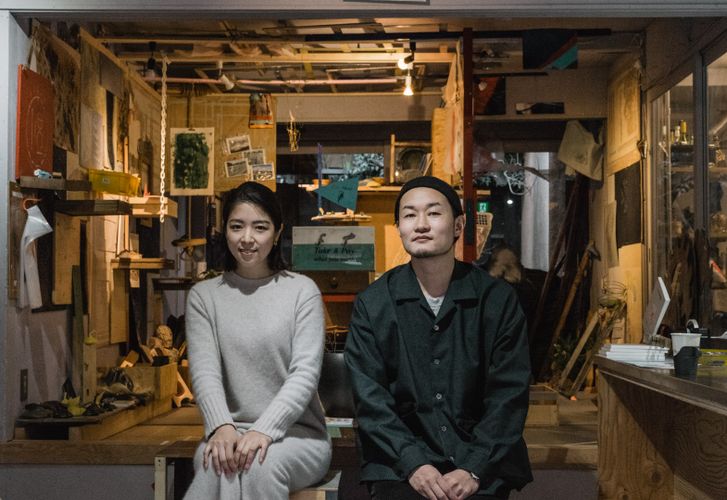 Profile / Tatsuya Iwasaki
Tatsuya Iwasaki was born in Japan in 1985 and currently live in Kyoto. He is working as a lecturer at the department of Service MBA at Kyoto University, as well as at the Kyoto Seika University. He had worked in Recruit Communications and Rakuten as a director in Tokyo until he moved to Kyoto in 2014 and started working in Loftwork.inc. He became independent and started Magasinn Kyoto in 2016, and founded EDIIT Inc. in the following year.